CONCORDEA "Over Wide Spaces"
Format: CD
Label: Independent (distributed by CLUB INFERNO ENT.)
Release Date: October 31st, 2017
File Under: Progressive Power Metal
Country: RUSSIA
Tracklist:
1. Breathe New Life
2. Wings' Motion
3. Confession Of My Pride
4. When They Want You… To Die
5. Between Two Worlds
6. Mermaid's Song
7. Portrait
8. Listen To The Snow
9. Rejected And Avowed
10. The Unknown
Order:
– Discogs >>>
– Bandcamp >>>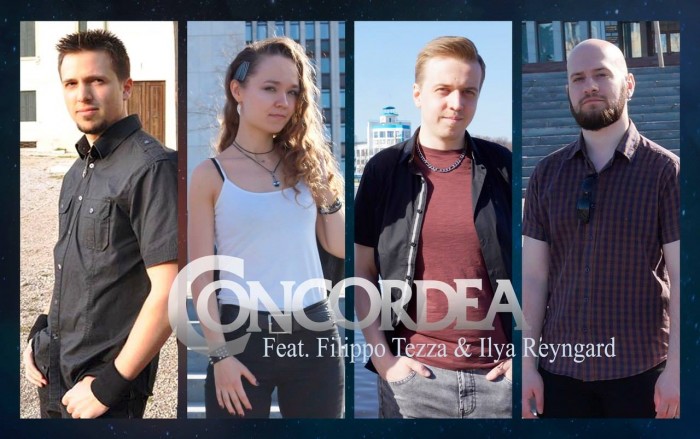 Biography:


Concordea is a melodic progressive metal band. The first line up was realized towards the middle of 2012 in Ekaterinburg,

Russia. At

 that time Concordea gave the first concert ever. Now the band performs its first full length album with Filippo Tezza (guest vocals), Ilya Reyngard (guest bass), Daria Piankova (all guitars) and Aleksei Turetckov (all keyboards).

 

 
Overview:


Our work is a world of contrast combinations. Here you will find anxious presentiment and cheerfulness, joyful lyricism and attacking aggression, hard drum rhythms and tender melodies, airy keyboard roulades and heavy guitar sound. There is the sound of the wind and the quiet of the forest which got mixed in the music. 
Discography:
2014 – "Before The Sunrise" (digital EP- DeFox Records)
2017 – "Over Wide Spaces" (CD/digital – Independent)
Line-up:
Daria Piankova: guitars
Alexey Turetckov: keyboards
Filippo Tezza: vocals
Ilya Reyngard: bass