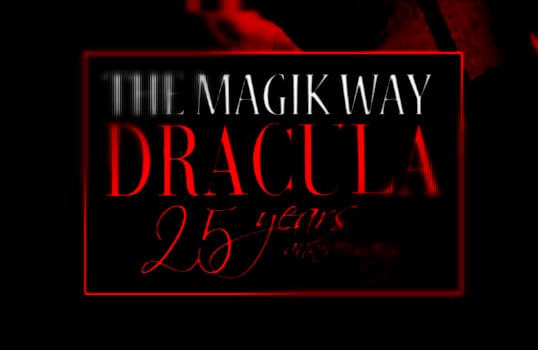 THE MAGIK WAY pubblicheranno il leggendario esordio "Dracula"
A 25 anni dal suo concepimento i THE MAGIK WAY pubblicheranno su My Kingdom Music il loro leggendario esordio discografico "Dracula" del 1997 e mai ufficialmente uscito.
"Dracula" fu uno spettacolo teatrale per la regia di Hermes Beltrame (Teatro degli Specchi) la cui colonna sonora fu scritta ed eseguita dal vivo in occasione della "prima" presso il Castello di Pomaro, il 17 luglio 1997 proprio dai THE MAGIK WAY per quella che può ad ogni ragione essere considerata la prima opera ad avere impresso il marchio THE MAGIK WAY.
L'album uscirà nel prossimo autunno completamente rimasterizzato per l'occasione e con un artwork davvero incredibile ad opera di Nequam che riprende vecchie immagini originali ed uniche.
Che l'Occulto Rituale abbia inizio.
________________________________
ENGLISH
THE MAGIK WAY will release "Dracula" their legendary debut
25 years after its conception, THE MAGIK WAY will release on My Kingdom Music their legendary debut "Dracula" created in 1997 and never officially out.
"Dracula" was a theatrical show directed by Hermes Beltrame (Teatro degli Specchi) whose soundtrack was written and performed live on the occasion of the "premiere" at the Pomaro Castle, on July 17, 1997 by THE MAGIK WAY for what can be considered the first work to have impressed THE MAGIK WAY brand.
The album will be released next autumn completely remastered for the occasion and with an incredible artwork realised by Nequam that takes old original and unique images for the occasion.
Let the Occult Ritual begin.