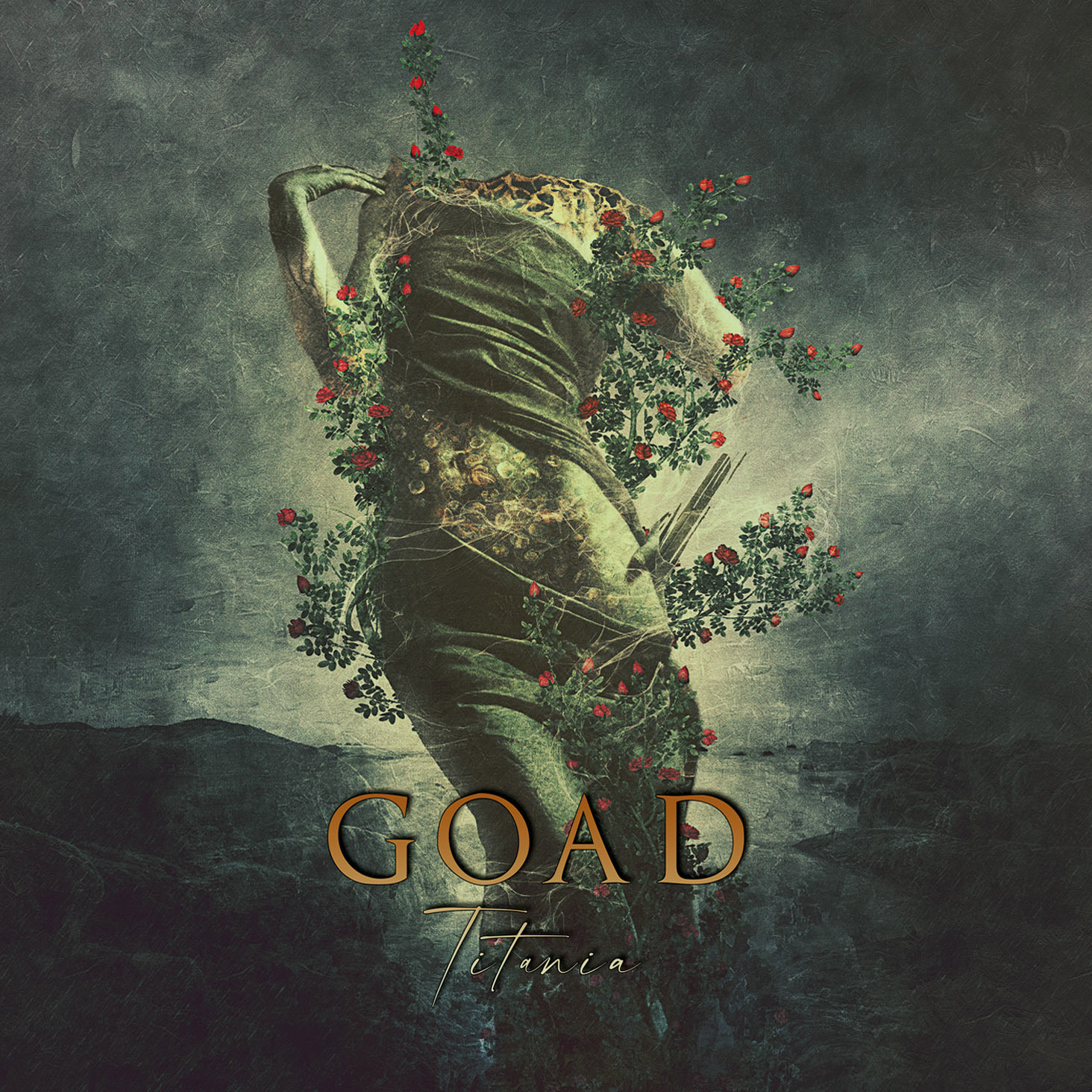 The historic Florentine Progressive Rock masters GOAD will release the new album titled "Titania" on October 20th on digital format, on double gatefold LP with 2 bonus tracks, on double CD where "Titania" is accompanied by a bonus CD with band classics recorded live in Genova in 2006 and in Florence in 2022.
Today we present you the cover artwork realized by Hans Trasid / Dis-Art Design (https://www.instagram.com/disartdesign) while you can find the complete tracklists of both CD and LP at the end of the article.
Pre-order is active at https://shorturl.at/flzHT
With "Titania", the band led by the charismatic Maurilio Rossi, continues its journey through the beauty of English literature, this time singing about the tangled story of love and revenge of the fairy queen Titania, protagonist of William Shakespeare's work "A Midsummer Night's Dream" and again the amazing verses of John Keats.

The sophisticated and deep sound of the Tuscan band emerges like never before thanks to the collaboration of the producer Max Cirone, who has given GOAD's sound a magical and extremely professional touch, enriching with new nuances and dimensions their dark and atmospheric Prog-Rock so dear to the fans of Van Der Graaf Generator, King Crimson, Genesis, PFM, Procol Harum.

50 years and not showing it, this is the story of GOAD, this is the story of Italian Prog!


Tracklist "Titania" CD
1. Upon A Little Hill – 2. Let Fly To The Sun – 3. You Say You Love – 4. To One Who Has – 5. Who Sent Me Some Roses – 6. One Night Like Another – 7. Sea Bird – 8. To You, I Can't Speak Or Think – 9. Beauty Is Truth: Fair Attitude – 10. Beauty Is Truth: Away Away – 11. Beauty Is Truth: Generation Waste – 12. Beauty Is Truth: Waking Dream – 13. Beauty Is Truth: Taking Breath – 14. Beauty Is Truth: Fill For Me
Bonus "Live" CD
1. I'll Celebrate You – 2. Yet Another Battlefield – 3. It's Always The Same Thing – 4. Brain Cobweb – 5. Dreamland – 6. Dark Virgin – 7. As Nothing Had Changed – 8. The Haunted Palace – 9. Genius Of Europe – 10. Empty Box – 11. Heavy Wings – 12. My Last War
Tracklist LP:
– SIDE A: 1. Upon A Little Hill – 2. Let Fly To The Sun – 3. You Say You Love – 4. To One Who Has
– SIDE B: 1. Who Sent Me Some Roses – 2. One Night Like Another – 3. Sea Bird – 4. To You, I Can't Speak Or Think
– SIDE C: 1. Beauty Is Truth: Fair Attitude – 2. Beauty Is Truth: Away Away – 3. Beauty Is Truth: Generation Waste – 4. Beauty Is Truth: Waking Dream – 5. Beauty Is Truth: Taking Breath
– SIDE D: 1. Beauty Is Truth: Fill For Me – 2. In The Sea Of Your Love (bonus) – 3. Be Happy (bonus)