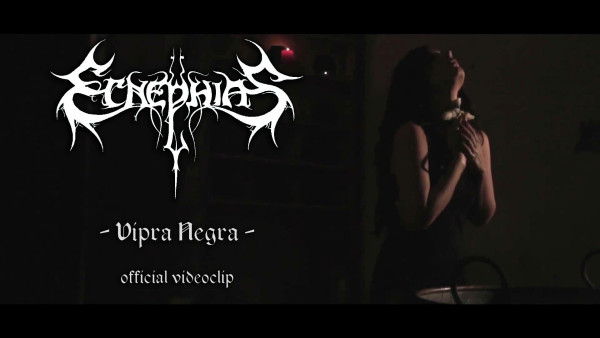 We are thrilled to present the official videoclip of the song "Vipra Negra" taken from "Ecnephias" the fifth full-length album of Dark Metal outfit ECNEPHIAS, ready to be released via My Kingdom Music on February 16th, 2015.
It's available on band's YouTube channel at http://youtu.be/iTy6stZUCXc
Mancan, voice, guitar player and mastermind of the band so commented the work under this effort: "We shot the video on two different days with the direction of Felice Vino and the support of Giuseppe Pupillo, in various locations around our city, an ancient house called Casa Spera in Tito (PZ) and among wheat fields. A lot of friends offered their help, showing up for some of the scenes or bringing animals for the scenes and we had also the pleasure to work with the actress/model Nunzia Palma. The plot is inherent to the lyrics of the song and it deals with the way of the left hand path, the feeling with the dark forces of life depicted by a sensual and symbolic woman. The woman is the snake, poison and antidote".
If you want to pre-order the album you can do it at:
CD – http://smarturl.it/ECN-CD