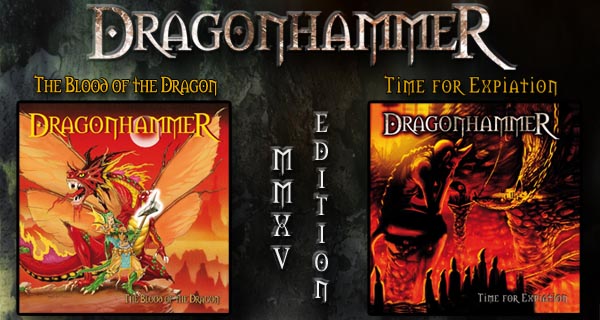 We are really glad to reissue the first two DRAGONHAMMER's albums released 14 and 10 years ago.
They are the legendary "The Blood Of The Dragon" (originally issued on 2001) and "Time For Expiation" (which saw the light on 2004) presented here in a new 2015 editions featuring a new digital treatment for the artwork thanks to the artist Antonio Pannullo, a completely new layout and for both releases bonus live tracks recorded during the 2014 European tour together with FREEDOM CALL.
A new European tour will start early next year and some live shows in South America are in program too.
Details will follow soon, so wait for something really shattering!
Pre-order the albums here:
"The Blood Of The Dragon (MMXV edition)" CD/digital
http://smarturl.it/DRAG-CD-1
"Time For Expiation (MMXV edition)" CD/digital
http://smarturl.it/DRAG-CD-2