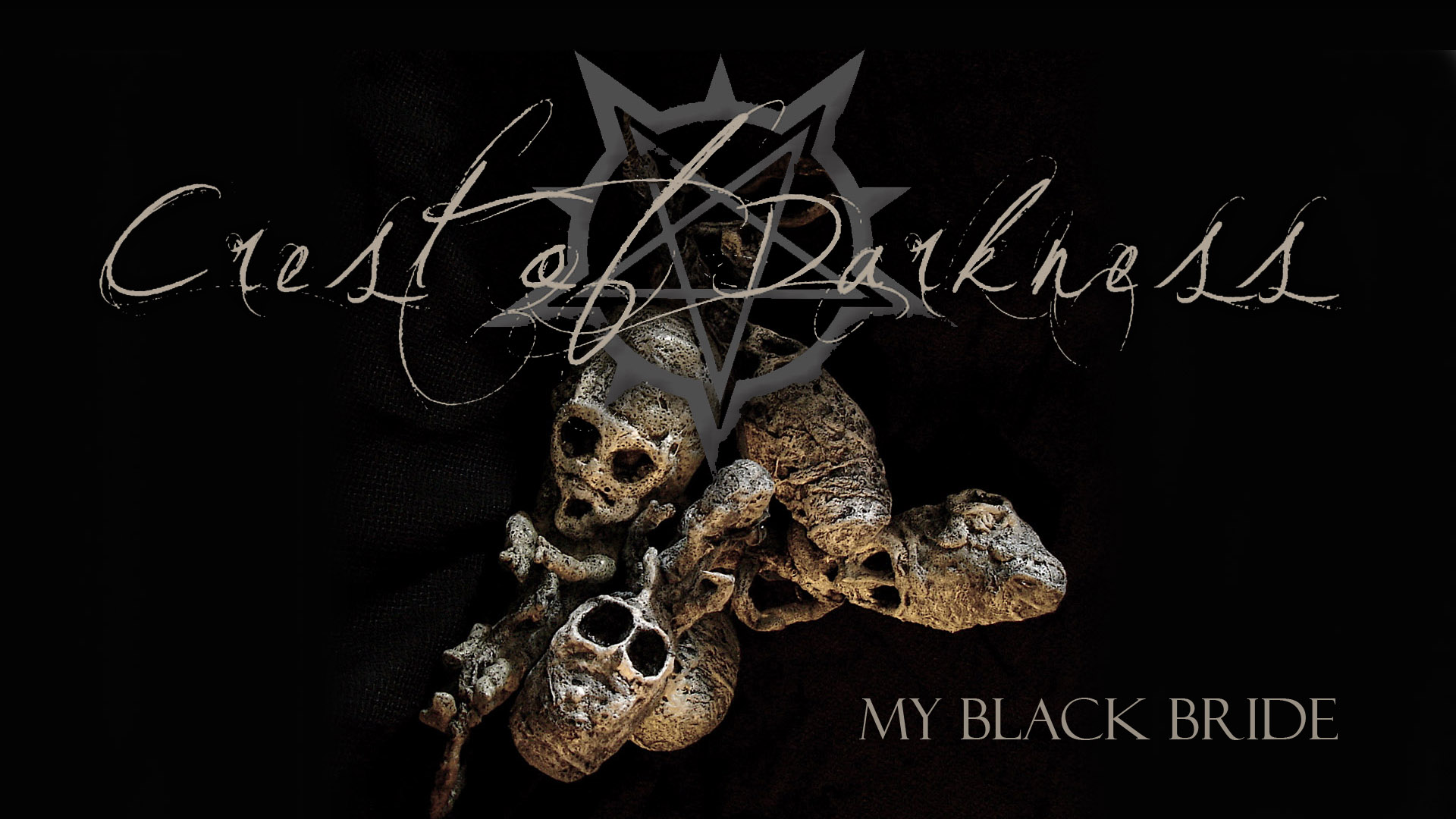 With their seventh full-length album "Welcome the Dead" released at the end of last year, and earning plaudits from fans and critics alike, veteran Norwegian Black Metallers CREST OF DARKNESS have uploaded a new video for a track from the album to their YouTube channel.
The track chosen for this video is "My Black Bride" and what makes this a particularly unusual choice for the band, not only because it is an instrumental, something the band has only recorded on two occasions over the years, but it is also a melodic, deeply atmospheric piece, totally different from the band's usual Black/Death/Metal sound. The reasons for creating such an "out of character" piece are quite fascinating, and are explained below by the band's founder and frontman Ingar Amlien (CONCPTION, ROQUEFIRE, AMLIEN's INFERNO).
The video itself can be seen at https://youtu.be/vh6wBBmNiM8
According to Ingar Amlien "My Black Bride" was written for his wife Laila, who wore a black wedding dress when the couple married over ten years ago: "I wanted to write a special song for Laila for a long time. She has supported me and my work for so many years, and without her I really don't know where I would be today, and I knew right from the start that if I was to create this piece it would have to be totally honest. Something personal, and not the kind of rose-tinted love song that people tend to expect when you write a song dedicated to the love of your life.
I tried to capture the feeling of romance and happiness, but at the same time I wanted to touch on something more "forbidden" – the dark side if you like to think of it like that. Like most couples we have been through many experiences in the time we've shared together, both good and bad. But, unlike most couples, my work has always involved being "in touch" with both Life and Death, something Laila has always been very aware of, so the difficult times take on a darker significance.
I also knew that this song had to be an instrumental because words could not possibly express what I was trying to communicate with this song. I played the guitars myself – I felt I had to as these few notes I'm playing are so extremely personal. To the listener the song may sound like a simple, stripped down piece of music, which is what I intended it to be, but it comes from the depth of my heart ands contains many small details that someone outside of the relationship I have with my wife cannot understand. It's a heartbreaking piece, but as with all my music, there is something deeper behind it. There is my belief that inside all of us there burns a black flame – that special will to survive".
The video itself was created and edited by Francesco Palumbo at MKM Graphix, using images from the Cappuccin Catacombs in Palermo, Italy, and, given that "My Black Bride" is essentially a romantic piece, the choice of such macabre images might seem strange. "When I first saw the video I almost choked" admitted Amlien. "The images were right for CREST OF DARKNESS, but I was a little taken aback at first. However, the more I looked at it, the more I realised that they were, in fact, perfect".
"Welcome the Dead" was released on My Kingdom Music in both CD and Digital formats at the end of last year. A double LP format, which will feature a special bonus track, will be released shortly in collaboration with Metal Age Productions, Kristallblut Records and Supreme Music Creations. Artwork for the album features the strange and disturbing Zombie Foetus sculptures created by the Italian artist Andrea Falaschi.
CREST OF DARKNESS' lineup of Amlien on bass and vocals, Rebo on guitars, Bernhard (ex- PALE FOREST) on drums, and Kristian Wentzel on keyboards, will celebrate the release of "Welcome the Dead" with a show special Friday the 13th show at Retro in Raufoss, Norway in January.
More information about CREST Of Darkness can be found on the band's Facebook page at http://www.facebook.com/crestofdarknessofficial
"Welcome the Dead" is now available from all the usual retailers as well as direct from My Kingdom Music at http://smarturl.it/DEAD-CD in CD and 2LP formats and in digital format at http://smarturl.it/WELCOME-THE-DEAD.
Nine tracks tracing the history of CREST OF DARKNESS, can be heard on the band's SoundCloud page at http://soundcloud.com/crest-of-darkness/sets/crest-of-darkness, whilst the official playlist, which includes the band's entire catalogue can be heard on Spotify at https://open.spotify.com/user/patriciathomas/playlist/7hW4CvcmbBGGriJtJBryx5
ADDITIONAL INFORMATION
Website: http://www.crestofdarkness.com/
Facebook: http://www.facebook.com/crestofdarknessofficial
SoundCloud: http://soundcloud.com/crest-of-darkness
YouTube: http://www.youtube.com/user/CRESTOFDARKNESSOFFIC
BandCamp: https://crestofdarkness.bandcamp.com
Spotify: https://open.spotify.com/user/patriciathomas/playlist/7hW4CvcmbBGGriJtJBryx5
MySpace: http://www.myspace.com/crestofdarkness
My Kingdom Music: info@mykingdommusic.net
http://www.mykingdommusic.net/
http://www.facebook.com/mykingdommusic.label
Band Contact and Booking: contact@crestofdarkness.com
Management and Booking: patriciathomas@btinternet.com
http://patriciathomasmanagement.com/