INALLSENSES "Checkmate"
Format: EP/digital
Label: Club Inferno
Cat. nr: HELL005
Release Date: March 31st, 2016
File Under: Psychotic Thrash Death
Country: Italy
Tracklist: 1. Expectation – 2. The Anthem Of Revolution – 3. New Automata – 4. Checkmate
Order:
– ONErpm >>>
– iTunes >>>
– Amazon >>>
– Google Play >>>
– Spotify – soon available
– Deezer – soon available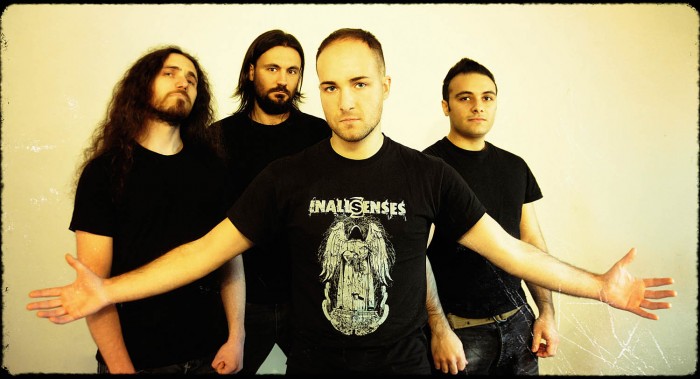 Biography:
INALLSENSES is an italian thrash/death metal band from Caserta, formed in 2006.
The band consists of vocalist/lead/rhythm guitarist Matteo Recca, drummer Bart D'Arezzo, lead/rhythm guitarist Giuseppe Senese, and bassist Lorenzo Picierno.
In July 2008 Inallsenses win the most important italian Metal contest for emergent bands (1st classified on 89 bands), the "Metal Battle", playing the final round at the Evolution Festival (with In Flames, Opeth and more…), one of the biggest metal festival in Italy, so after 1 month, in August 2008 the band fly to WACKEN OPEN AIR to dispute the International Metal Battle in competition with 16 nations all around the world. They placed at the 3rd position doing a great live show.
In October 2008 Inallsenses are in the "Italian Assault Tour 2008" with Onslaught. At the end of the year the band did about 30 live shows all over Italy. In the future years the band has continued to support other great artists.
To date, the group has released two full-length albums: The Experience (2008 – Club Inferno), Hysterical Psychosis (2010 – My Kingdom Music), and one music video.
In 2016, an EP "Checkmate" is released and distributed by Club Inferno. It represents an introduction to the new full length that is going to be released in fall.
Overview:
A right mix of powerful Death Metal and killer Thrash Metal. Their sound can be defined Psychotic Death Thrash that starting from the destructive influences of bands like Testament, Lamb of God, Arch Enemy adds elements typical of the Heavy Metal scene. Smashing guitar riffs in every single song, exploding feeling, killer arrangements and terrific production are the key words for a masterpiece into the extreme music scene and the guidelines for a journey into a world of pure adrenaline!
Discography:
1997 – "Escape Of Natural World" (demo)
2008 – "The Experience" (CD – Club Inferno Ent.)
2010 – "Hysterical Psychosis" (CD – My Kingdom Music)
2016 – "Checkmate" (EP/digital – Club Inferno Ent.)
Line-up:
Matteo Recca – vocal and guitar
Giuseppe Senese – guitar
Bartolomeo D'Arezzo – drums
Lorenzo Picierno – bass