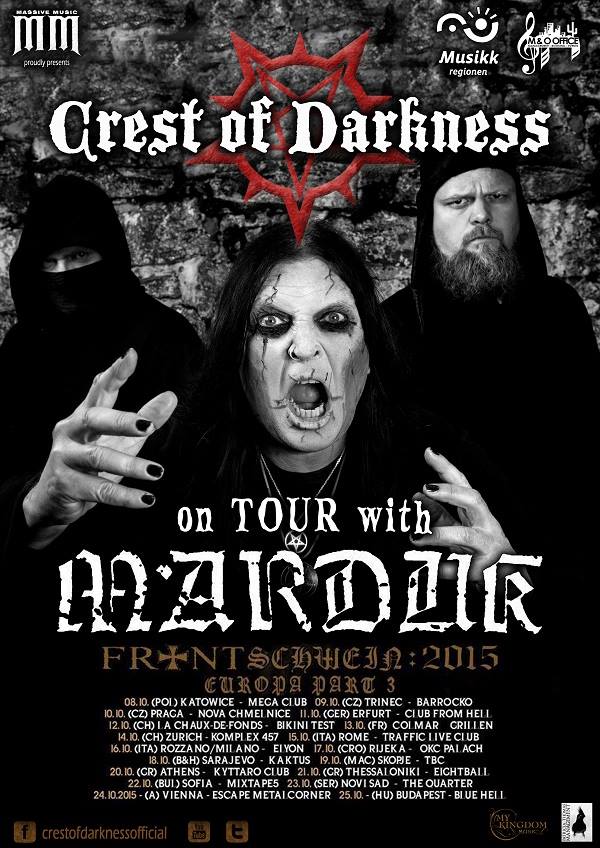 CREST OF DARKNESS on tour with MARDUK
October 8th / October 25th.
18 shows, 18 cities, 14 countries, 6 bands
Maybe the biggest extreme tour of the upcoming fall.
CREST OF DARKNESS will be part of this great event sharing the stage with MARDUK on their FRONTSCHWEIN European Tour 2015 and we are honoured to support this great artistic event.
See you in one of these great shows
08 Oct: Mega Club, Katowice, PL
09 Oct: Barrocko, Trinec, CZ
10 Oct: Nova Chmelnice, Prague, CZ
11 Oct: Club From Hell, Erfurt, DE
12 Oct: Bikini Test, La Chaux-de-Fonds, CH
13 Oct: Grillen, Colmar, FR
14 Oct: Komplex 457, Zurich, CH
15 Oct: Traffic Live Club, Rome, IT
16 Oct: Elyon, Rozzano, IT
17 Oct: OKC Palach, Rijeka, CRO
18 Oct: Kaktus, Sarajevo, BA
19 Oct: Havana, Skopje, MK
20 Oct: Kyttaro Club, Athens, GR
21 Oct: Eightball, Thessaloniki, GR
22 Oct: Mixtape 5, Sofia, BG
23 Oct: The Quarter, Novi Sad, RS
24 Oct: Escape Metalcorner, Vienna, AT
25 Oct: Blue Hell, Budapest, HU